Fri. August 5th
HIllcrest Christian College had a Jeans Day today and many students came to school wearing Jeans with school jacket or sweater morning. Four or five Wakoku students also tried to wear Jeans like photos below. Another thing, all students here learn about Aboriginal Culture on 1st period at theater. Wakoku students had an experience lesson of Aboriginal Culture under Ms. Connell, specialist She gave much explanation about it in detail and had our students start to make ART. She praised their work as beautiful sense. I hope they grow up, though two days experience, to respect each own culture and understand another culture each other..
It was also the final day for Wakoku students at Hillcresst Christian College today. Eight day school life has gone away so fast and our students had Farewell Party for teachers and Host Families with a big warm heart. They prepared for it, practicing singing song, dancing, decorating wall, making quiz and so on under Leaders smoothly in the afternoon. At around 3:30, Host families was coming in Gym and sitting down. Students sang Shi-Uta song, school song, danced Matsu-ken samba, showed Kendo demonstration, gave quiz about Japan, student's handmade party was going well and finally all students had special thanks speech one by one, Some of them sometimes never said anymore with tears filled in their eyes and their Host Family from seats thrown warm saying to their lovely child. It was seemed they are real Family.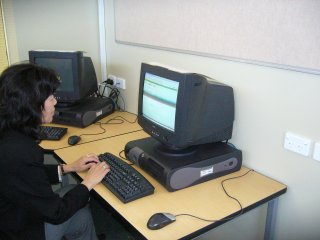 Mrs. Yamazaki, teacher posting to parents on BBS.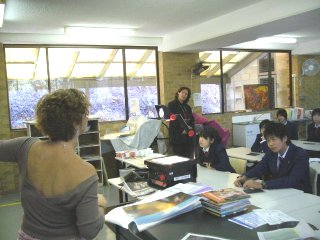 Taking lecture very seriously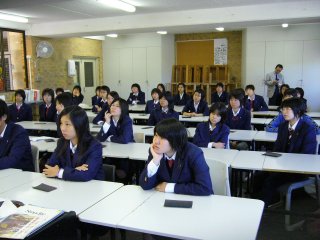 Taking lecture in English, of course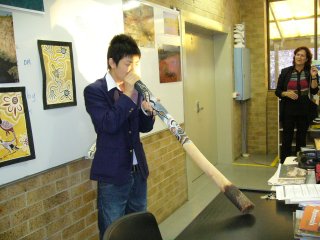 Challenging Aboriginal instrument