15:00
All teachers who will take students came to the 2nd Terminal of Narita International Air Port
18:50
All students came together at the Air Port
19:10
Started to check in
20:30

All of participants went through the security check easily except Mr. Kaji, vice president. He was checked from his head to toe many times. He said by himself The security machine checked the inside of man! (his heart).
21:30

Our Flight OF60 took off with big noise sounding into our bodies and when our plane came into Air, our students cried "Wao".
23:30

It came time to sleep with turning off light and students kept quiet and closed their eyes.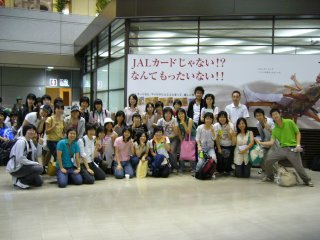 20:25

Moved to the Immigration

Students said thank you very much for seeing them off to Mr. Watanabe, Principal, Mr. Takada, teacher and their parents.
20:55

Started boarding.

Our special seats was prepared at the tail.
22:30

We did not wait for the air plane dinner. It was little bit late meal and we enjoyed it.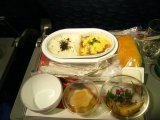 You see the peace sign from two girls. It is the typical style to be photographed in all Japanese girls.

I hope the peace will be full by them as soon as possible in the world.