Mon. August 1st

In the first day of the week, Smile faces come to school and all students were looked fine. They said they had good time to go shopping, had BBQ on the sea shore and so on weekend. Two students were seemed to be bad feel and we suggested not to do hard for every thing. and had to attend the class'˝B We were happy to see all went back with being well.
Morning Tea Time

Our Students found out "10:20am Morning tea Time" on day schedule. They thought why we have a tea on that time. we have no tea at school! The time came up to them and they saw Hillcrest students having SNACK here and there! It was the snack timeu The four photos, left and center are showing students' eating time. It is really fun for them all together, from Kindergarten to High School students.
Our students' attendance at the class

Two groups are made and each group take the English class as ESL and the regular class alternately. Of course they could not understand the class except computer, Japanese and easy debate. They have been trying to follow the class with dictionary very hard and that's all.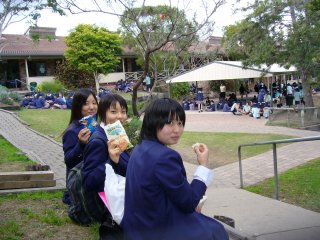 Morning Tea Time with Kindergartener. They had snack which Host family gave.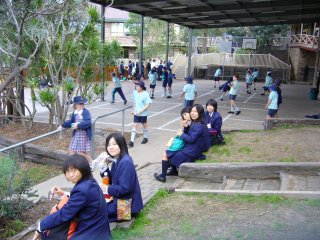 Morning Tea Time with pupils in Elementary school, they are not still anytime.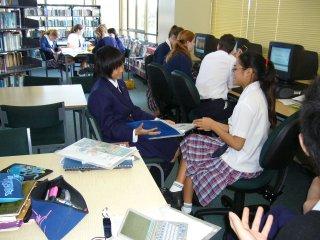 Law class at Library. Research and Discuss are very important for them.

Hillcrest Girls group have Morning Tea Time. No one have TEA!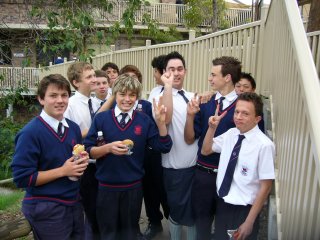 Hillcrest Boys group have Morning Tea Time. the V sign were showed by Japanese students.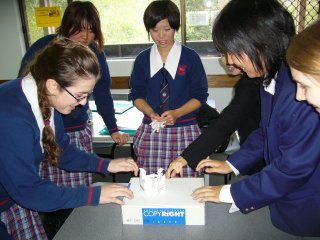 Paper craft SUMO playing at Japanese class. Saying "Hakke yo-i nokotta nokkotta"